Where Did Tide Come From?
Washing powders were the first form of laundry detergent, making it easier to clean clothes thoroughly without spending too much time scrubbing. Since then cleaning agent brands began popping up in the market. Procter and Gample's Tide brand detergent has been around seemingly since washing machines came about. Now owning a whopping 30% of liquid detergent market share, Tide has become known as a reliable and effective option for laundry day.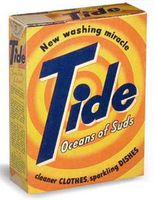 Tide's distinctive orange and yellow bulls-eye was designed by designer and architect Donald Deskey. The bright colors were intended to give off a rhetoric of cleanliness and renaissance. Originating in the U.S. and hitting stores in 1946, Tide started out as a heavy duty washing supplement. Competitors often released unsuccessful products in the form of flakes or balls; Tide first came in the form of a ball which was to be included in your laundry and its reviews were high from the get-go. By 1949, Tide was in the isles of many major stores in all parts of the nation, and the brand began to make its name.
Major competitors at this time were brands Rinso and Gold Dust Washing Powder (both owned by the Lever Brothers brand. However, whilst Tide was moving onto a liquid form which would quickly replace their slightly less effective and less attractive ball-shaped version, Lever Brothers brand products were still in the old fashioned flake form. This decision came to the U.S. after the brand saw massive success in other international markets. Prior to 1984, liquid detergent was booming in parts of Europe as well as Japan. Tide's first liquid wash soap that was brought to the United States market was tinted orange and seemed slightly strange to consumers; however, after the quality of the product became known, this version became familiar to homeowners and the company's clientele grew immensely. Business only went uphill from there; each business year seemed to break the previous record numbers.
Since the initial breakthrough of this industry niche, Tide has continued to deliver new and interesting product lines, such as more eco-friendly options for nature conscious buyers, or detergent with bleach. The group certainly knows how to keep their customers interested.